BM GROUP – INNOVATION MADE IN ITALY
A pool of brands, one objective: to innovate the industry by maximizing the results achieved by our customers and optimizing their production processes and the quality of their products while improving their environment by ensuring safety at work and environmental sustainability.
HISTORY
1993 – Establishment of BM ELETTRONICA, founded by Mirko BOTTINI, a company dealing with industrial plants and green energy.
2002 – The new born BT Systems becomes the group's holding company with the membership of Andrea TONINI and Mirko BOTTINI. F & G Automation starts its automation and industrial solutions activity.
2006 – BM ELETTRONICA opens an operating unit in ILVA Taranto as an in-house supplier.
2007 – Foundation of Soft Technologies, specialized in the development of software applied to industrial automation. BM ELETTRONICA opens an operating unit in Brazil.
2008 – Foundation of TECNERGA, consultant company for solutions to optimize the efficiency  of industrial process with the minimum energy waste.
2010 – BM ELETTRONICA establishes a new division, BM Greenpower, involved in turnkey solutions for renewable energy.
2011 – Foundation of BM Engineering as BM EPC contractor.
2012 – F & G Automation was bought by BM Group and becomes POLYTEC SRL. Its core business becomes the production of highly technological robotic cells for the steel market. Opening of sales offices in Romania and Brazil.
2014 – The BM Group Holding owns more than 20 companies, and thanks to POLYTEC and BM Automation is now one of the top players in robotics and advanced automation applied to the steel industry.
2014 – Foundation of HYDROALP, a company specialized in turbines production for hydropower plants.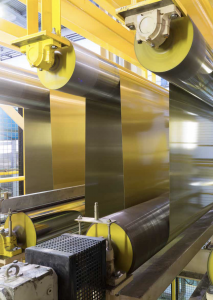 "Creating value through the design, the development, the financing, the creation and the management of Integrated Automation Systems and Process Control Operations for innovative and competitive plants according to our customer needs".
CUSTOMER-ORIENTED PRODUCTION EFFICIENCY: BM Group assists its customers in improving their operating performance and productivity while ensuring safety at work, reducing the consumption of energy and cutting costs.
INNOVATION FIRST: Innovation and quality are key features of our systems, products and services.
HUMAN VALUE: BM Group knows the importance of attracting and retaining dedicated and skilled people, therefore it is committed to offer his employees an attractive, global working environment.
This is the vision that BM Group pursues in compliance with its Corporate Code of Ethics: integrity, safety, honest dialogue and respect for the environment.
To have more info about the BM GROUP companies please visit: