MATEC SRL was established in 2002 as a natural continuation of MATEC of R. TRECCANI, active in the sector since 1950. Ever since the beginning our production and marketing activities have been aimed at mechanical components for lifting and handling machines and/or systems.
Over the years MATEC has given great importance to the spare parts sector, guaranteeing timely and efficient service to our various clients. For more details please visit our website www.matecweb.it
Currently, given the natural and continuous improvement and specialization efforts, our position on the market enables us to maintain continuous contacts with manufacturers of lifting and transport equipment, as well as with users including the most important national and international iron and steel and cement groups.
Main products of MATEC can be listed as below:
CRANE BUFFERS
LOAD LIMITERS
DRUM BRAKES
ELECTROMAGNETIC DISC BRAKES
DISC BRAKES
FLEXIBLE COUPLINGS AND PULLEYS
SPARE PARTS FOR BRAKES AND COUPLINGS
CRANE BUFFERS
ARIETE SERIES
ARIETE Buffers Benefits:
ARIETE Buffers absorb both slow them High shock with same efficiency
ARIETE Buffers absorb both shocks undoing return Forces
ARIETE Buffers reduce gradually crane speed with a first action of rubber springs (as speed reduction action) and then absorb all inertial forces reducing to zero all return forces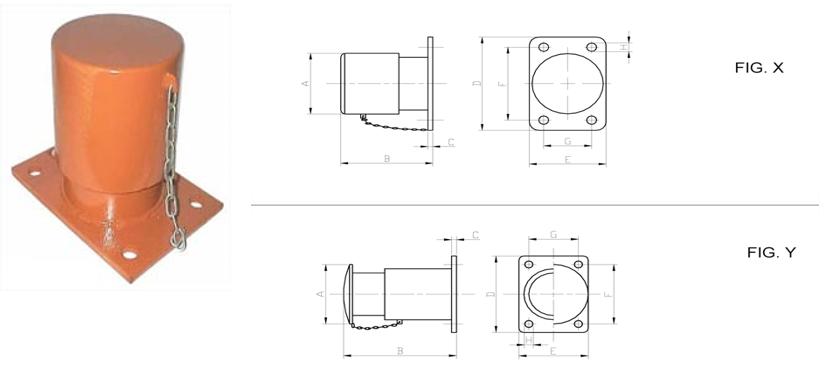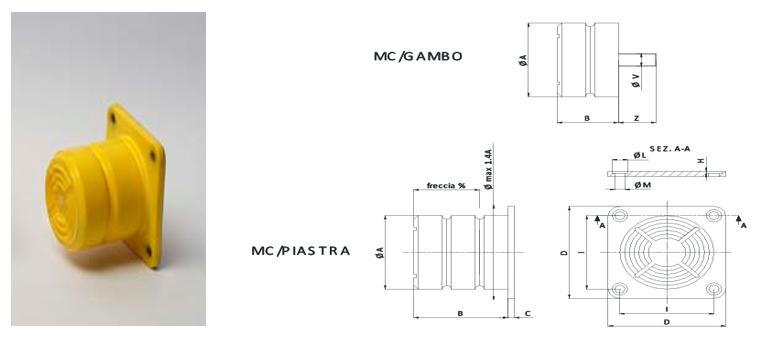 LOAD LIMITERS
TAIL SERIES
The TAIL capacity limiter is a safety device applied to wire rope lifting equipment to prevent the operator lifting loads in excess of those for which the machine was designed.
The capacity limiter is attached directly to the end of a fixed rope.
The application procedure is simple and does not require the disassembly of any of the mechanical parts mounted on the lifting winch.
Setting the device is a simple operation, carried out by turning a screw. However, if the device is to be used on relatively high speeds or accelerations, dynamic forces (approximately 15%) must be taken into account.
DRUM BRAKES
MATEC has different types of drum brakes:
NA160 Series
A200 Series
A250 Series
A315 Series
A400 Series
A500 Series
A630 Series
All MATEC drum brakes have been designed with high safety factors suitable for heavy-duty applications.
For more details about design and application details please visit: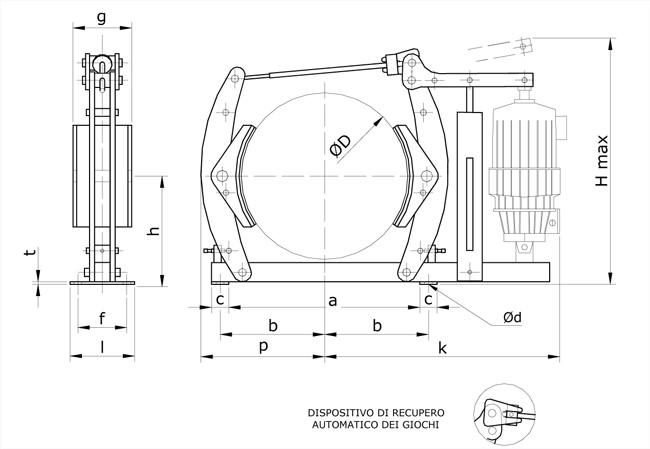 ELECTROMAGNETIC DISC BRAKES
The Polyp Disc, owing to its braking capacity and its simple and rational system of assembly, can be employed in all industrial fields: it can in fact solve the following problems:
BRAKING OF MOVABLE VERTICAL LOADS
winches – elevators – hoists – lifts – conveyors – inclined planes – roller shutters – shears – benders – cutting machines – lifting equipment in general.
BRAKING OF ROTATING PARTS OR PARTS WITH STRAIGHT-LINE MOTION
machine tools in general – presses – crane travelling and rotation – crabs – other travelling parts
BRAKING OF MOVABLE PARTS TO ENSURE A PRECISE, SAFE STOP AD BRAKING OF MACHINES IN GENERAL TO AVOID WORK ACCIDENTS TO THE OPERATOR
machine tools – rolling mills – draw-benches – packers building and tiling machines –    weaving machines – paper factory machines – mixers – cement factory machines
APPLICATIONS
Service brake
Safety brake
Emergency brake
MATEC types of disc brakes:
MD0 Series
MD1 Series
MD2 Series
MD3 Series
FLEXIBLE COUPLINGS AND PULLEYS
MATEC has different types of couplings and pulleys suitable for different applications:
GEFF SERIES
GEFFL SERIES
PFF SERIES
PFFL SERIES
GDP SERIES
SDP SERIES
SDA SERIES
For more details about MATEC flexible couplings and pulleys please visit: