LABEA is a highly qualified team of engineers specialized in the steel world. LABEA combines the experience of the founder, Mikel Mendiola, with over 25 years of experience in technical management positions in the steel world, with the enthusiasm and expertise of a young but very experienced team.
An exceptional human team using the latest technology in the market in an exclusive workshop for control and development of own products.
WHAT WE DO
As LABEA, we find solutions to technical problems in the steel world, based on four basic premises:
– The safety of the people who produce steel.
– Efficiency of its processes.
– Savings, especially energetic ones.
– Environmental care.
For more details, please visit LABEA website www.labea.com
LABEA has mainly four activity fields, all related with steel industry.
SCRAP SCLEANING PLANTS
Scrap is the raw material for EAF (Electric Arc Furnace). EAF requires ferrous scrap that will be melted in order to get the liquid steel. Because of its nature, scrap is composed not only by ferrous scrap but also with a great variety of materials: non-ferrous metals (such us stainless steel, cupper, aluminum, zinc, etc.), wooden, plastic and ground.
Even all these materials are not required in the EAF, their effect on final product is very different:
– Non-ferrous materials effects negatively to steel quality. This contamination will require bigger cost in the metallurgy of liquid steel until get the required product. On the other hand, if they are screened and recovered before melting, they have economical value and can be sold.
– Wooden, plastics…these materials, when burnt, they give some energy to the process and they don't affect to final product quality. On the other hand, they provoke smokes and occasionally COx and/or NOx.
– Ground: this material is very bad for steel making process, as it has not any positive aspect. Opposite to this, it affects negatively to metallurgy, they damage refractories, increase dust emissions, etc. It is a delicate point, because even if it could be considered logic to have some ground in the scrap, it is very common to find out that scrap has an important amount of ground…more than could be considered as logic.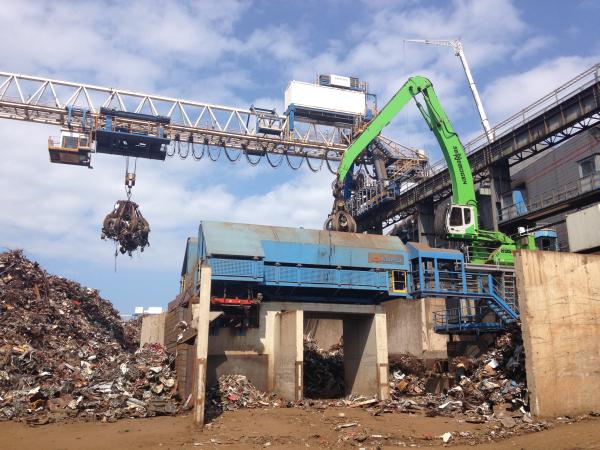 To sum up, non-ferrous materials provoke:
– They are paid as scrap.
– It is necessary an important amount of energy to melt them.
– They reduce productivity.
– They increase metallurgy cost.
– They produce more slag.
– They increase contaminating dust emissions.
– It is necessary replace more often dust filters.
LABEA scrap cleaning plants designed to remove almost all non-ferrous and foreign material, which degrades the steel quality and let EAFs only melts ferrous scrap to increase the yield.
ELECTRIC ARC FURNACE SOLUTIONS
LABEA has products and plants in use of electric arc furnaces. These products can be listed as below:
EAF revamping
Automatic sampling and temperature measurement equipment
Water cooled lances through the furnace door
Consumable lances
Pneumatic conveying and injection of solids
Lime injection plants
EBT filling
Oxygen gas burners and oxygen coherent injection in EAF
Nitrogen injection
High speed panels and injectors
Electrode regulation systems
Automatic crane hooks
Mechanical cleaning of the door
Water cooled panels
Ceramic hoses for EAF
LADLE FURNACE SOLUTIONS
Basing on the great experience in the field LABEA has different designs and solutions for ladle furnace applications:
LF revamping
O2 gas ladle preheaters
Last minute burners
Automatic sampling and temperature measurement equipment
6-axis robot
Automatic argon coupling system
Electrode regulation systems
Interchangeable electrode clamps
Ladle cars, U-shape cars
Additive and ferroalloys adding system
CONTINUOUS CASTING PLANT SOLUTIONS
LABEA has solutions for continuous casting plants as well:
Billet marking robot
Billet, bloom and slab scarf cleaning system
Billet rhombodity measuring system