ATOMAT SPA has been founded in 1968 as high precision tooling manufacturer. In 1976 produced its first grinding machine in numeric control. In the time being introduced its state of the art CNC notch milling and grinding machines as well as CNC turning lathes for roll workshops of rolling mill plants.
Since 1996, ATOMAT SPA has designed, manufactured and commissioned over 500 CNC machines in over 70 countries worldwide.
In Turkey, ATOMAT SPA has 29 CNC machines  (18 CNC Notch Milling Machines + 7 CNC TC Ring Grinding Machines + 4 CNC Turning Lathes) operating with high success and pleasure. For detailed reference list please do not hesitate to contact us.
For more details, please visit ATOMAT SPA's website www.atomat.com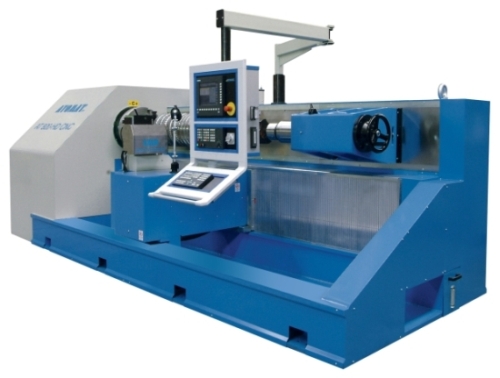 ATOMAT SPA AT 820 CNC nervür işleme tezgahları son derece sağlam ve çok yönlü tezgahlardır. Serinin tamamı gelişmiş ROLLWORK yazılım paketi, IMD entegre markalama ünitesi, AMCD otomatik ölçme ve merkezleme ünitesi, nervür kenarlarını yuvarlayan eşsiz CBS pah kırma sistemi ile donatılmıştır. Bugün ATOMAT SPA nervür işleme tezgahları aynı uygulama için kullanılan diğer tüm tezgahlara göre açık ara lider konumundadır.
ATOMAT SPA AT 700E CNC series grinding machine are specially designed for the demand of the tool shops of the modern rolling mills. The various sizes of the range can cover from rings of finishing blocks to composite cylinders of 2 meters length.
The advanced SIEMENS 840 SL control, with set up for internet remote assistance, is able to grant the maximum accuracy and flexibility to these grinders. The machines can operate both in contour and plunge grinding.
The new ATOMAT SPA AT711 E CNC grinder can perform in automatic also the wheel changing operations with a tremendous reduction of the overall grinding process eliminating any dangerous operator's wheel handling.
CNC lathes are heavy-duty machines suitable for grooving and redressing rolling rolls and cylinders. They are specifically designed for rolling cylinders. The range of models can cover bars, rods, small, medium and heavy sections applications.
The four guide ways are able to grant the necessary rigidity and stability for long cylinder machining. The SIEMENS 840 SL control has full potential for demanding performance of this application.
The dedicated interface makes machine operations easy and fast for machine high productivity.
Lathes are also available in combined version to carry out turning, notching and marking operations in the same machine.
Please do not hesitate to contact us to get more info about ATOMAT SPA CNC roll workshop machinery and original ATOMAT SPA notching and grinding tools.